Post by Leor Pantilat on Aug 30, 2012 19:15:58 GMT -5
On August 20th, I completed the Suiattle Crest 50 mile loop in 11h44m. The original run was done on August 4, 2009 in 13h37m so this effort was 1h53m faster. While this is a relatively obscure objective for FKT reporting purposes, the scenery and aesthetics of the route are well-deserving. The complete loop (zero repetition), entails six passes and covers most of the highlights in this region of the Glacier Peak Wilderness including a breathtaking view from Little Giant Pass, a tour through wild Napeequa Valley, 360 vistas from the High Pass area, verdant wildflower meadows, stunning Lyman Lakes, and Spider Gap. It's quintessential North Cascades scenery. With GPS, I found that total elevation gain is near 14,000 ft, but distance is a couple miles short of 50 miles. While no summits are climbed en route, the alpine flavor and grand vistas along the way make this a classic outing.
The first 14 miles from Little Giant TH to High Pass are the most arduous with the steepest climbs, brush (very wet and very cold from dew in the morning), off-trail travel, and route finding issues. After High Pass, the complexities are mainly over as the trails improve allowing for more running. Doing the loop clockwise provides for a relatively easy 13-mile finish along the Phelps Creek Trail and dirt road from Phelps Creek TH back to Little Giant TH.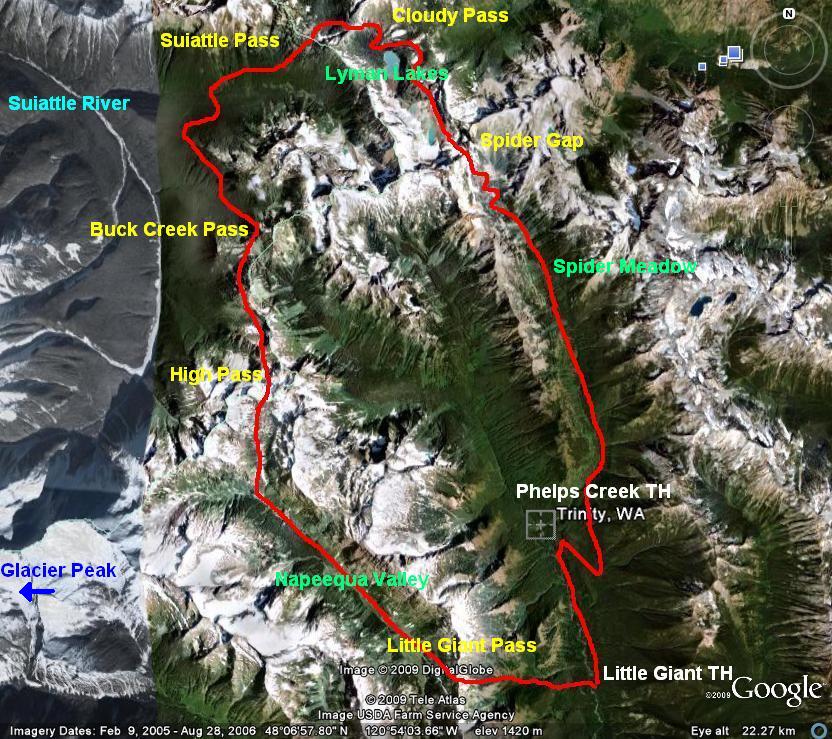 A shorter option that is very popular with backpackers is the ~36 mile Spider Gap/Buck Creek Pass Loop. This option avoids the complexities of Napeequa Valley and the ascent to High Pass, but the stupendous scenery in Napeequa Valley and High Pass are well worth the extra effort and mileage.
It's sad to note the recession of the Lyman Glacier, which is essentially now a remnant ice patch. Despite relatively healthy snowpacks the last couple years, the glacier has continued to lose thickness appearing noticeably smaller than my visit in 2009 with the terminus even receding from the last glacial lake.
Location (Elevation): Time Elapsed / Split / Real Time (difference 2012 vs. 2009)
Little Giant TH (2,600 ft) :
0
/
0
/ 06:40
Little Giant Pass (6,409 ft) :
1:18:36
/
1:18:36
/ 07:59 (-17)
High Pass (6,876 ft) :
4:30:18
/
3:11:41
/ 11:10 (-1:05)
Buck Creek Pass (5,796 ft) :
5:39:01
/
1:08:46
/ 12:19 (-1:04)
Cloudy Pass (6,420 ft) :
8:10:20
/
2:31:19
/ 14:50 (-1:08)
Spider Gap (7,040 ft) :
9:32:11
/
1:21:50
/ 16:12 (-1:28)
Phelps Creek TH (3,500 ft) :
11:01:50
/
1:29:38
/ 17:42 (-1:41)
Little Giant TH (2,600 ft) :
11:44:19
/
42:29
/ 18:24 (-1:53)