Post by Peter Bakwin on Jan 28, 2015 12:06:58 GMT -5
Karl Egloff 11h52m (RT from the road via Horcones), 19 February 2015.Previous: Kilian Jornet 12h49m (RT from the road via Horcones), 23 December 2014.Bruno Brunod, Jean Pellissier and Fabio Meraldi has the ascent (3h40m20s) and RT (4h52m) FKT from Base Camp (Plaza de Mulas), February 2000.María Isabel "Chabela" Farías has the women's FKT of 12h40m RT (9h16m ascent) from Base Camp, set 20 February 2016.Sunny Stroeer has the women's FKT for ascent from Base Camp of 8h47m set 23 January 2017.Fernanda Maciel the women's FKT of 22h52m RT (14h05m ascent) from the road/Park entrance, set 21 February 2016.
Aconcagua (22,841' / 6961m)
is the highest peak in the Southern and Western Hemispheres, and in fact the highest peak on Earth that is not in the Himalayas. As such, and since the standard route ("Normal Route") is non-technical, it is a very popular climb.
As part of his
"Summits of My Life"
project, Kilian Jornet did the Normal Route up and back from the road (Horcones) in 12h49m on 23 December 2014. The total distance of this route is somewhere between 35 and 50 miles RT and ascends 13,327 vertical feet. Jornet's ascent time was "about 9 hours". A brief write-up with more details in at
www.climbing.com
. A more in-depth and literary report was published in the
New Yorker magazine
, and reports Jornet's ascent time from base camp (Plaza de Mulas) at around 5h15m.
Less than 2 months later (Feb. 19, 2015) Ecuadoran-Swiss mountain runner
Karl Egloff
bested Jornet's mark for the same route by 57 minutes, doing the round-trip in 11h52m. He reported the ascent time (from the road) at 7h55m and the total round-trip distance at 68km. An in depth interview with Egloff is on
Ian Corless' "Talk Ultra" podcast
(the interview begins around 28 min. into the podcast), and includes discussion of Egloff's background, his Cotopaxi and
Kilimanjaro
FKTs, training, and verification (Egloff indicates that the run was timed by National Park officials, and that he has a gps track of the run).
"It's a beautiful sport, speed climbing, but you gotta have a lot of experience to do it." - Karl Egloff
Legendary Italian mountain runners
Bruno Brunod
,
Jean Pellisier
and Fabio Meraldi are credited with the ascent and round-trip records for Aconcagua from Plaza de Mulas, 3h40m20s ascent, 4h52m RT in Feb. 2000.
We know of no FKTs on Aconcagua by women prior to 2016. That year, Brazilian ultrarunner
Fernanda Maciel
set the women's FKT of 14h20m round-trip from Plaza de Mulas (ascent in 9h50m). Maciel was accompanied by a male mountain guide. She apparently spent about 4 weeks acclimating and training on the mountain, and attempted to ascend from the highway (as per Egloff and Jornet) a few days prior, but was unsuccessful due to poor conditions. A first report on her accomplishment is
here
(in Greek?!). Her attempt was reported in real time on
Twitter
#whiteflowaconcagua, and at
redbull.com.br
. In an
audio interview with Ian Corless
, Maciel discussed the difficult conditions she encountered on the mountain (mudslides, deep snow), and other details. Another interview is
here
(Spanish). Later than same month, on February 21, Maciel set the FKT from the highway / Park entrance, 22h52m RT (ascent in 14h05m), as announced on Twitter (@ferultratrail). Maciel's sponsor, Red Bull, provided a
brief press release
, and later a
more detailed report with video
. Maciel's round-trip-from-base-camp FKT lasted less than 3 weeks, as Argentine mountain guide Chabela Farías did the ascent from Plaza de Mulas in 9h16m, and a 12h40m round trip, as reported
here
. 11 months later, on January 23, 2017,
Sunny Stroeer
did the ascent from Plaza de Mulas in 8h47m, shaving 29 minutes off the women's ascent record.
"move ... positive" - Fernanda Maciel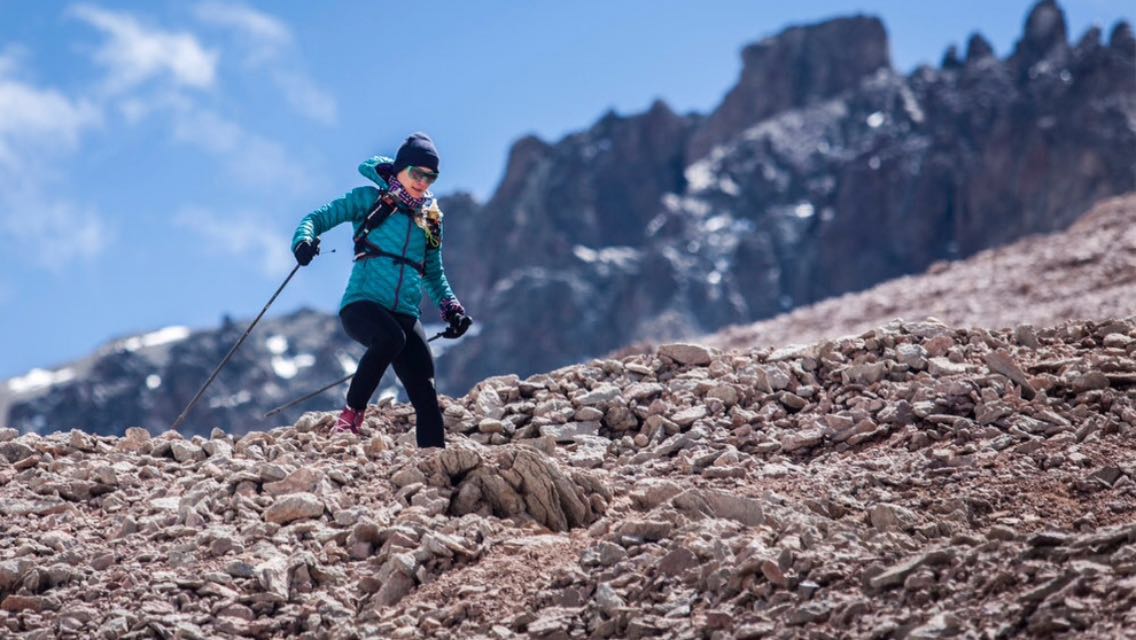 Fernanda Maciel descending Aconcagua
Aconcagua's huge South Face
Karl Egloff at Plaza de Mulas (Base Camp)