Post by Peter Bakwin on Oct 22, 2009 14:43:53 GMT -5
Joe McConaughy set the men's self-supported (thru hiker style, GA to ME) FKT, 45d12h15m, July 17 - Aug. 31, 2017.Karl Meltzer set the men's AT speed record, 45d22h38m (supported), from Aug. 3 to Sep. 18, 2016 (ME to GA).Jennifer Pharr-Davis has the women's AT speed record, 46d11h20m (supported), from June 15 to July 31, 2011 (ME to GA).Heather Anderson has the women's and overall self-supported (thru hiker style, ME to GA) AT FKT, 54d7h48m, completed Sep. 24, 2015.
"I found things in the woods that I didn't know I was looking for..."
- Jennifer Pharr Davis
"The trail has a way of answering the questions you most need answered, even if you are afraid to ask."
- Heather Anderson
The
Appalachian Trail (AT)
runs 2,189 (in 2015) miles from Georgia to Maine. Along with the Pacific Crest Trail and the Continental Divide Trail, it is one of the "Big 3" National Scenic Trails. Like many of these trails, the route has changed slightly over the years, and there has been a general tendency for the trail to become longer over time as reroutes are made to take the route off of roads.
Speed records on the AT are known going back to the first true thru-hike by Earl Shaffer in 124 days in 1948 (south to north). In 1960, Lochlen Gregory and Owen F. Allen completed the trail in 99 days (south to north), a time that was matched by Earl Shaffer in 1965 (north to south this time). Then, in 1970, Branley Owen dropped the AT record all the way down to 73 days, using good backpacker style which we call "self supported". Warren Doyle lowered the overall AT record to 66 days, supported at road crossings by his father during much of the hike. This supported style took hold after Doyle's accomplishment, and in 1978 John Avery shaved 9 hours off the FKT, hiking and running for 65 days, and receiving support throughout the trip. These trips established stylistic norms and also guidelines for FKT aspirants. These early FKTs were finally blown away by Ward Leonard's 60.5 thru-hike (self-supported) in 1990 (see below). [I am indebted to Jennifer Pharr Davis for this section. Her forthcoming book
The Pursuit of Endurance
has very much more detail on these early records and personalities.]
"Grandma" Emma Gatewood was the first woman to thru-hike the AT alone. Here is what
Wikipedia
says about Gatewood's first AT thru-hike:
In 1955, at the age of 67, Gatewood told her children (who were by then adults) that she was going for a walk. They did not ask where or for how long, as they knew she was resilient and would take care of herself. About 5 years earlier, Gatewood read an article in National Geographic about the AT and thought "it would be a nice lark," though in retrospect considering the difficulty she added "It wasn't." The magazine gave her the impression of easy walks and clean cabins at the end of each day's walk. Thus she took little in the way of outdoor gear. She wore Keds sneakers and carried an army blanket, a raincoat, and a plastic shower curtain in a homemade denim bag slung over one shoulder. She would later say "For some fool reason, they always lead you right up over the biggest rock to the top of the biggest mountain they can find."
A
bestselling book about Gatewood
was published in 2014.
My motto is, "Carry as little as possible. But choose that little with care."
- Earl Shaffer, first AT thru-hiker
Most people today are pantywaist. Exercise is good for you.
- Emma Gatewood, first solo female AT thru-hiker (1955)
Here's a rough timeline of speed trips. More detail about many of these is given below. (
Women in italics.
)
| | | | |
| --- | --- | --- | --- |
| Earl Shaffer | 1948 | self supported, northbound | 124d |
| Emma Gatewood | 1955 | self supported, northbound | 146d |
| Lochlen Gregory & Owen Allen | 1960 | self supported, northbound | 99d |
| Earl Shaffer | 1965 | self supported, southbound | 99d |
| Branley Owen | 1970 | self supported, ? | 73d |
| Warren Doyle | ? | supported, ? | 66d |
| John Avery | 1978 | supported, ? | 65d |
| Ward Leonard | 1990 | self supported, ? | 60.5d |
| David Horton | 1991 | supported, northbound | 52d9h42m |
| Jenny Jardine | 1993 | self supported, accompanied | 87d |
| Pete Palmer | 1999 | supported, northbound | 48d20h11m |
| Andrew Thompson | 2005 | supported, southbound | 47d13h31m |
| Jennifer Pharr Davis | 2008 | supported, southbound | 57d8h38m |
| Jennifer Pharr Davis | 2011 | supported, southbound | 46d11h20m |
| Elizabeth Thomas | 2011 | self supported, northbound | 80d13h11m |
| Matt Kirk | 2013 | self supported, southbound | 58d9h40m |
| Heather Anderson | 2015 | self supported, southbound | 54d7h48m |
| Scott Jurek | 2015 | supported, northbound | 46d8h7m |
| Karl Meltzer | 2016 | supported, southbound | 45d22h38m |
| Dan "Knotts" Binde | 2017 | self supported, northbound | 53d22h57m |
| Joe "Stringbean" McConaughy | 2017 | self supported, northbound | 45d12h15m |
| Joey Campanelli | 2017 | self supported, southbound | 48d23h48m |

Supported Records:

Fully supported, ultrarunning-style multiday speed records on big trails probably began with David Horton's AT trip in 1991 (52d9h42m). Horton's time was broken by Pete Palmer in 1999, with 48d20h11m.

In 2005, Andrew Thompson beat Palmer's time, completing the AT in 47d13h31m. Here is an article about Thompson's trip. Thompson had tried but failed to break the AT record in 1998 and 2001.

Karl Meltzer began an attempt to break Thompson's record starting August 5, 2008 (north to south). Karl, one of the nation's top trail ultrarunners, had a high level of support spear-headed by Backcountry.com. An injury forced Karl to abandon the record attempt after hiking and running 538 miles in 14 days. The La Sportiva mountain running blog has more information and interviews with Karl, David Horton, Andrew Thompson and Brian Robinson. Karl persevered and finished the AT on Sept. 29, in a total time of 54d21h12m. Meltzer tried again for the record during the summer of 2014, but quit after about 32 days. A bit more information has been provided below.

Jennifer Pharr Davis set the women's AT speed record, from June 20 to August 16, 2008, (Maine to Georgia) with a time of 57d8h38m. Jennifer was crewed primarily by her husband, Brew Davis, with help from others. The previous women's record was 87 days by Jenny Jardine, hiking traditional thru-hiker style with her husband, Ray.

Hiking from Maine to Georgia in the summer of 2011, Pharr Davis smashed her own women's record, and beat the overall AT speed record by over 26 hours, completing the trail in 46d11h20m, finishing on July 31. An article on her trip was published in the New York Times a few days before she finished. She was once again crewed by her husband and others. She published two books about her experiences on the AT titled Becoming Odyssa and Called Again.

Hold the record lightly. -- Jennifer Pharr Davis

International champion ultrarunner Scott Jurek beat Pharr Davis' time by just 3h13m, hiking from Georgia to Maine during May 27 to July 12, 2015. Jurek was crewed primarily by his wife, Jenny. He had tons of company during the trip as many admirerers ran with him along the way. His tweets and Facebook posts from the trip (minus the photos) are recorded below, and Ian Corless has provided a similar timeline that includes many photos. Jennifer Pharr Davis wrote a nice perspective on the FKT for blueridgeoutdoors.com This was Jurek's first experience with the AT (other than short outings on sections totalling less than 30 miles), and his first multiday run. He overcame two injuries early in the trip which put him behind schedule for some time. A thorough article appeared on the RunnersWorld website, and Jurek's own recap was posted to his blog.

Karl Meltzer returned to the AT for a final attempt, and succeeded in setting a new FKT of 45d22h38m (Maine to Georgia), August 3 - September 18, 2016. Meltzer was supported mainly by his father, Karl Sr., and Eric Belz. He also had support of David Horton and Scott Jurek in the latter stages of the trip. For the final stretch, Meltzer ran 83 miles nonstop in just under 24 hours. The trip was documented by Redbull. Jurek still holds the NoBo record. Good articles on Meltzer's record are by the New York Times and Outside Magazine.

Sometimes the most memorable moments in our lives are those that were the hardest and the darkest moments. I think that was the case with me, because getting through those dark, deep moments that we remember the most can be the most rewarding, that we learn the most lessons from. That's what makes us stronger and better people in the end. -- Scott Jurek

The A.T. is iconic. It's got history. It's ridiculously hard. -- Karl Meltzer





Backpacker (Self Supported) Records:
Several early AT thru-hiker records are listed above. Thru-hiker style is basically what the majority of backpackers employ - hiking every step of the trail and resupplying in towns along the way either by mail drops or simply shopping. An early thru-hiker (and overall) FKT was that of Ward "Spooky Boy" Leonard in 1990, 60.5 days. During his 10 thru-hikes of the AT, Leonard became infamous for his anti-social behavior. Here's what Outside Magazine reported about Spooky Boy (May 1996):
Leonard has reportedly hiked the trail continuously for the last seven years. Once, he says, he covered the 2,000-plus miles in a mere 60 days. Spooky Boy's obsession is beginning to cause problems. While on the trail last summer, he tried to set the record for most consecutive climbs of New Hampshire's Mount Washington, which stands at 6,288 feet. The record attempt came to a swift conclusion when Leonard was asked to leave Mount Washington State Park for, according to one ranger, "making unwelcome advances to patrons at the snack bar."
Elizabeth Thomas set a new women's record for hiking the AT in classic thru-hiker style, completing the trail in 80d13h11m in 2011. Her trail journal is
here
.
Matt Kirk
did the AT in classic thru hiker style in 58d9h40m (southbound) during June-August 2013. He resupplied in towns and didn't get into a vehicle during the hike. Kirk also made a careful effort at verification of his hike, an important step for this style in particular since the hiker is not observed much of the time.
Joey Campanelli
thru-hiked the AT northbound in 57d4h41m, May 15 - July 11, 2014. This is more than a day faster than Matt Kirk's FKT, but Campanelli did not adhere to pure self-supported style. Near the end of his trip, Campanelli got hit with horrible conditions due to
Hurricane Arthur
, which caused massive rainfall and flooding in New England around the July 4th holiday. Discouraged by the rain, mud and difficult river crossings, freaked out by a developing case of trench foot, and delayed by a foot injury from a fall in the White Mountains (he took a zero day to get an X-ray, which showed that the foot was not broken) Campanelli accepted a ride into town and support from his father. Campanelli wrote in his blog "I am pretty fed up with the condition of the trail. Not only does it make passage difficult and slow, I am worried about getting injured and my feet falling off." After briefly considering quitting, Campanelli returned and finished the trail, but did not claim a record due to the support (long trail thru-hiker style has generally included accepting no rides for any reason). He did say, "I know I will come back to the AT."
Completing her hike on September 24, 2015, Heather Anderson (Anish) smashed all previous self-supported (thru hiker style) speed records for the AT. Anderson hiked southbound and completed the trail in 54d7h48m, 4 days faster than the previous best time by Matt Kirk. She also holds the overall thru-hiker FKT for the
Pacific Crest Trail
, set in 2013. An in-depth interview with Anderson, shortly after her AT FKT, is on
irunfar.com
.
Here's what Anderson wrote on her
Facebook
immediately after the hike:
The trail has a way of answering the questions you most need answered, even if you are afraid to ask.
Those that have followed me for a while know that I have struggled with self-esteem my entire life. You would think setting the PCT speed record would change that.
Yet it only gave the negative thoughts an even more insidious way to demoralize me, especially after I failed to set the JMT record last year.
"The PCT was a fluke. You were only the benefactor of lucky circumstances. You aren't athletic. You aren't able. You're a charlatan."
On and on the whispers go.
I had to come here, to the AT, where my quest to find myself began 12 years ago and face those voices once and for all, alone.
I was to afraid to ask, but the trail knew the question in my heart:
"Was the PCT a fluke?"
The AT answered with a resounding, "NO!"
I wrestled not against the trail or external forces, but with them. If it were easy the whispers of inadequacy would continue. Instead I was challenged every single minute.
In the dark hours when I was tired, lonely, and hungry, that is when the demons came, "Why didn't you stop with the PCT record? It will be your greatest achievement in life. You won't ever do anything else. Now you're out here and you're in over your head. You will fail. You can't do this. And everyone is going to know that you are nothing."
But, every footstep I took was a choice. A choice to face my own perceived inadequacies. Every footstep was a commitment. A commitment to deny that there was any truth to the words of the internal foes.
As the miles dwindled into the double digits I became aware that I was crushing more than miles. I was crushing a lifetime of self defeating beliefs.
So now, I walk off of Springer Mountain, alone just as I came. My pack, my feet, and my heart are light, unburdened at last.
And, I am aware that the end of every journey is simply the beginning of the next and that, far from being behind me, the greatest achievements of my life lie ahead.
Dan "Knotts" Binde
claimed a new overall thru-hiker FKT of 53d22h57m (northbound), but so far this is unverified. Binde carried a SPOT tracker, but there were problems with the device and there are large gaps in the record, which is archived on
trackleaders.com
. Binde posted his daily miles and an account of his SPOT problems
here
. However, the report doesn't match up with the SPOT data in some important ways. Also, the SPOT data clearly show a first point on Springer Mtn at 17:28:30Z on 26 May 2017, and a last point on Katahdin at 17:00:35Z on 19 July 2017, for a total time of 53d23h32m - 35min longer than Binde's claim. With the help of others in the AT community,
Bill Townsend ("Just Bill")
did a detailed investigation of Binde's claim, and issued a
10-page report
(also summarized on
whiteblaze.net
) which concluded that the evidence was inconclusive. Additional discussion of this is on the
whiteblaze.net forum
, which is devoted to all things AT. Kathryn Miles wrote a
piece for outsideonline.com
about Binde's claim.
Here's an interview with Binde.
This situation highlights the need for different types of verification data, including real-time satellite tracking, time- and geo-located photos, and a detailed notes taken during the trip.
Joe "Stringbean" McConaughy brought the AT record new level. He hiked GA to ME in a remarkable 45d12h15m, July 17 - August 31, 2017, averaging 48 miles per day and beating Karl Metlzer's fully supported time by over 10 hours! Stringbean carried a SPOT tracker and typically sent several track points per day, though there were some "holes" in the track of up to 30 hours or so. To avoid unwanted "support", McConaughy kept his SPOT data private during the hike, but did share the real-time track with a few people, including the administrator of this site. His SPOT tracker data are now available
here
. He also posted daily updates via
instagram.com
, which were delayed by a couple of days to prevent people from tracking him down. His daily log is
here
. He posted the following from Katadhin:
Greetings from the top of Katahdin at 6:38pm where I was greeted by 70 mile winds, hail, rain, mist, endless boulder scrambles, @kekiracofe and

josh

.katzman. After a 37 hour push, i managed 110.8 miles straight to do what I had to do, more than I have run at once by almost 50 miles. I honestly don't know what to say. I'm am in shock and pain, joyful and thankful, humbled and tired, in disbelief and exhilaration. I will be forever perplexed and appreciative of what the wilderness brings out in myself and others. I hope anyone watching is at least inspired to become more involved in the outdoors. Every day has been a battle, but I am very thankful to be safe and have accomplished my dream ever since the PCT. I've had a lot of time in my own thoughts, and what I took away most from this journey is community. It is the people you love and who surround you who provide the greatest joy. It really took a village. I want to give a heartfelt thank you to my lovely girlfriend, Katie, my parents and the Katzmans who came to the start/finish, friends and family who I have HEAVILY leaned on, hikers, trail angels and the trail community who have given me everything from sloppy Joe's to an extra set of batteries to allow me to run through the night, @anishhikes and @meltzerkarl for pushing the FKT record, @efnorthamerica and @efcollegebreak for being an awesome company and letting me take time off work to pursue my dreams, to @heartbreakrunco, @brooksrunning, @palantepacks, @mountainlaureldesigns, and @cieleathletics to help me get here, and everyone who has followed or watched or commented. I've been brought to tears and laughter even though I may have never met you. Thank you all, Stringbean out. OOHYEAH!
- Joe "Stringbean" McConaughy on completion of his FKT thru hike
gearjunkie.com
had an early report on McConaughy's hike. McConaughy also has the
supported FKT for the Pacific Crest Trail
.
As promised, Joey Campanelli did return to the AT in 2017, setting a new self supported SoBo FKT of 48d23h48m, Aug. 7 - Sep 22, 2017. Though this is is more than 3 days slower than McConaughy's NoBo FKT set the same summer, it is the fastest SoBo time. Campanelli posted updates on his
instagram
during the hike, and his trip was followed on a
thread on whiteblaze.net
. He used a SPOT Trace tracker, which isn't really a good device for this since you can't easily send a message at will, but anyway his SPOT data are archived on
trackleaders.com
and at
maplist.com
, which also shows track points from Matt Kirk & Heather Anderson for comparison. Campanelli is working on a detailed trip report on his
blog
.
"Every morning it's wonderful, every evening I want to quit." - Chris Bakwin (AT hiker, 2017)
A few other challenges have emerged that utilize portions of the AT:
The
Smokies Challenge Adventure Run (SCAR)
is an unofficial 70+ mile traverse of the Great Smoky Mountains National Park (TN, NC) along the Appalachian Trail, starting at Fontana Dam and going to Davenport Gap. See the
SCAR thread
under the South Region for more information.
Hundred Mile Wilderness (ME)
Maine AT
Connecticut AT
New York AT
New Jersey AT
Pennsylvania AT section from Scott Farm to Doyle Hotel
AT through Cumberland Valley, PA
AT through Shenandoah National Park
AT from Woody Gap to Blood Mtn in GA
Georgia AT
Another AT record that has been persued a few times is the most miles that can be run on the AT in 24 hours. In March 2004
Matt Kirk
has run 99 miles through Shenandoah National Park, beating David Horton's previous record of 91 miles.
Scott Brockmeier
started the attempt with Matt, but was unable to complete the traverse.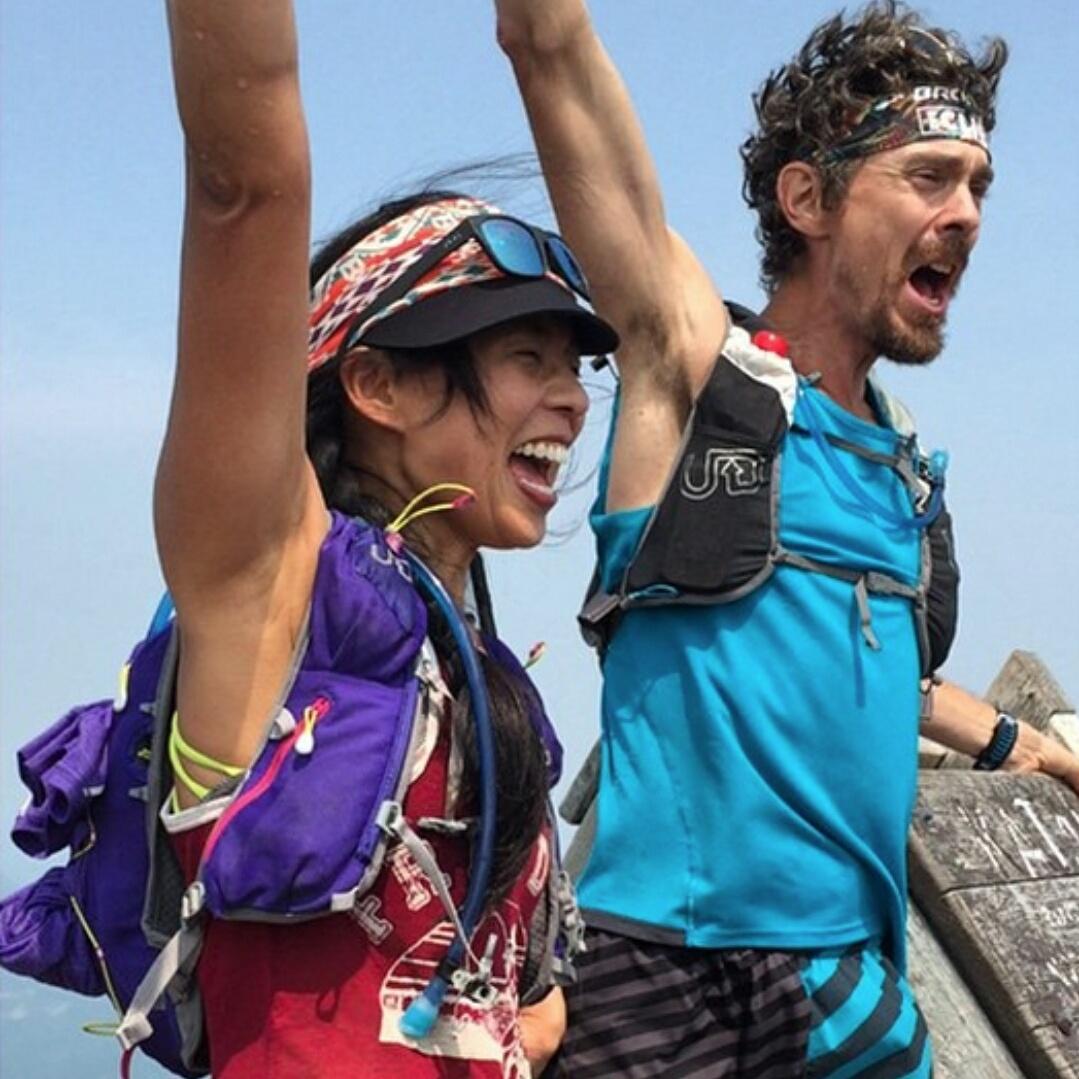 Scott & Jenny Jurek on Katadin
Heather Anderson selfie on the AT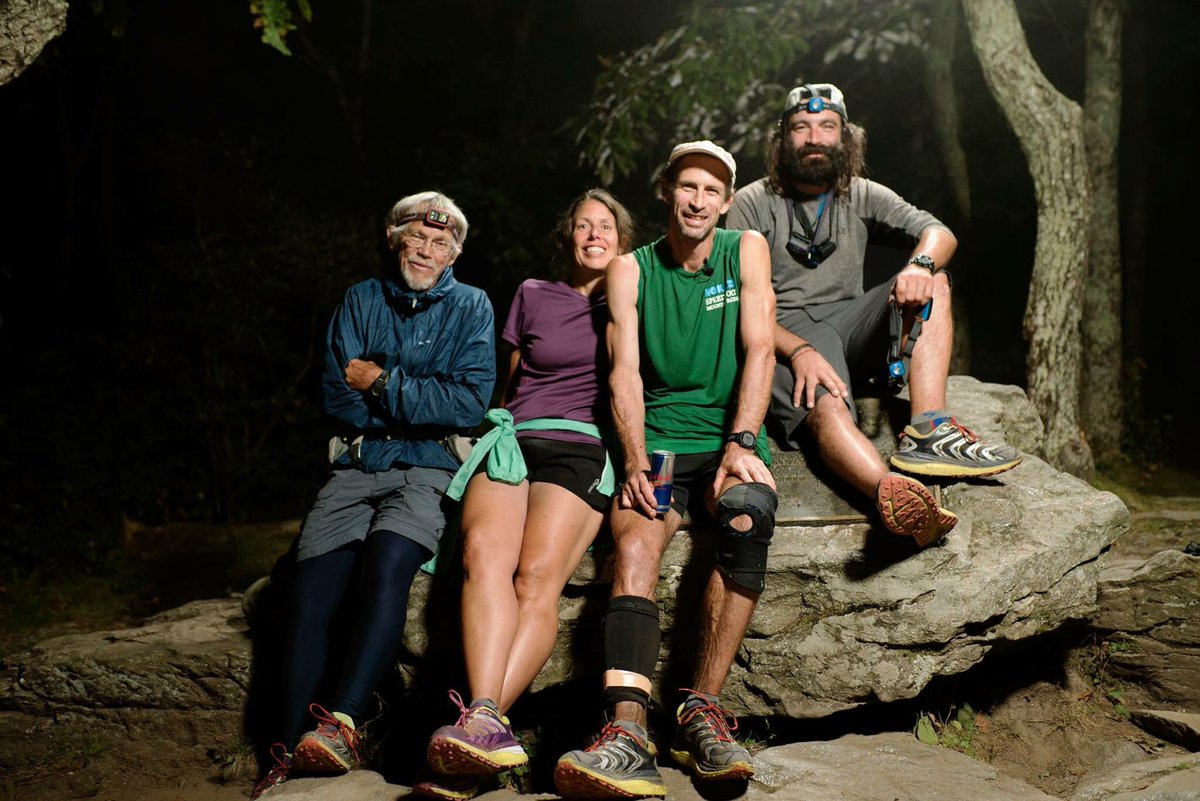 Karl Meltzer, Sr, Cheryl Meltzer, Karl Meltzer and Eric Belz
Dan "Knotts" Binde